Xiaomi Mi 8 Lite vs Samsung Galaxy A8s: triple lens camera, 6GB RAM and more…>
Coming up today is the battle between Xiaomi Mi 8 Lite vs Samsung Galaxy A8s. One of the phones arrives with an amazing Infinity O display and the triple-lens camera. Let's read on to know the winner!

Xiaomi Mi 8 Lite vs Samsung Galaxy A8s specs
Between two phones, Xiaomi Mi 8 Lite is the new edition of the Chinese brand in September. Whereas, Samsung Galaxy A8s can be the first product with Infinity O display. Xiaomi Mi 8 Lite specs present 6.22-inches notched screen with a resolution of 1080 x 2280 pixels. Meanwhile, Samsung Galaxy A8s specs feature a large 6-inch display with Full HD+ resolution. Therefore, in the race of screen, the Samsung Galaxy gets one point.
Concerning the storage, Xiaomi Mi 8 Lite memory sports 4GB RAM and 128GB ROM (upgradable to 256GB). On the other hand, Samsung Galaxy A8s has 6GB RAM and 128GB ROM which can be expandable to 512GB via a micro SD card. The Mi 8 runs on Android 8.1 Oreo, takes power from Qualcomm Snapdragon 660. Whereas, the Galaxy A8s goes with Qualcomm Snapdragon 670 and Android 8.0 Oreo. With the more massive storage, Samsung Galaxy A8s wins.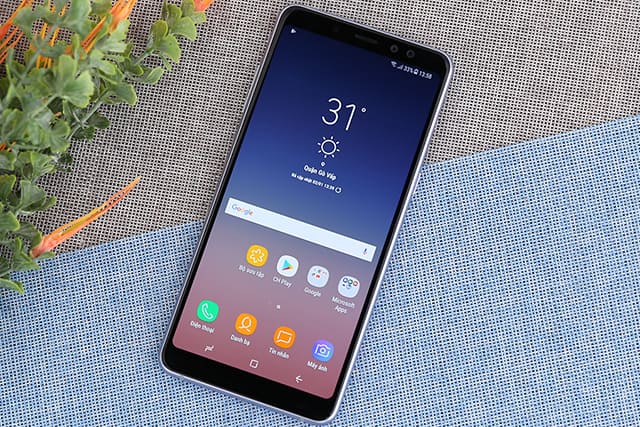 In photography system, Xiaomi Mi 8 Lite camera features 12MP + 5MP dual camera module and a selfie camera of 24MP housing on the top notch. Meanwhile, the Samsung Galaxy A8s camera may also rock a triple-lens camera set up on the rear like the Samsung Galaxy A7 (2018). About the resolution of the camera, Xiaomi Mi 8 gets an advantage. Moreover, the Mi 8 Lite gets 3350mAh battery, while this figure in the Samsung Galaxy can be 3400mAh. With a higher-capacity battery, Samsung Galaxy A8s is the winner of this round.
Xiaomi Mi 8 Lite vs Samsung Galaxy A8s release date and price
In conclusion, the Xiaomi Mi 8 Lite release date is September, whereas, there is no official information on the release of Samsung Galaxy A8s. People hope to use this fantastic phone from Samsung in early of next year. Xiaomi Mi 8 Lite price starts at $205, and Samsung Galaxy A8s price is expected at around $487. With the lower price and excellent selfie camera, you can choose Xiaomi Mi 8 Lite when waiting for Samsung Galaxy A8s!